Eye Exams
Routine and Medical Eye Exams in Houston, TX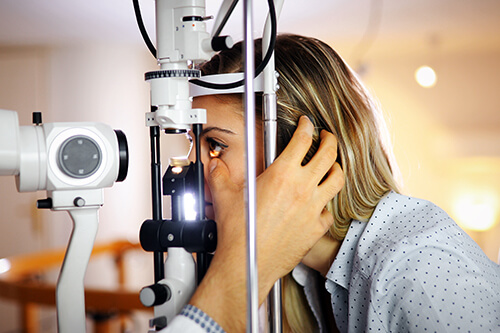 A lot of terms are thrown around, like medical eye exam, comprehensive eye exam, routine vision exam, vision screening, etc., and there ARE differences between different types of eye examinations.
When most people think about getting an eye exam, they're trying to picture whether or not the doctor will tell them they need glasses, or maybe thinking about updating their current contact lens or glasses prescription. They don't usually think of it as a medical or health exam.
What is a Medical Eye Exam?
A medical eye exam differs from a routine vision exam in that it is an exam where we're evaluating or treating a patient for some sort of medical condition.
When you are visiting a doctor because you have pink eye, that is an example of a medical exam. In the case where the doctor discovers that your vision is blurry due to cataracts, and the doctor provides a medical diagnosis, the exam becomes a medical exam.
Though small in comparison to the rest of the body, the eye is a complex and amazing organ. Often times, the eye acts as a window through which we can see other things occurring in the body.
What is a Routine Vision Exam?
This is when our eye doctor will determine your prescription by doing a refraction. This is not considered a medical exam, because there is nothing wrong or medically harmful about needing glasses prescription – it simply has to do with the shape of your eye as an individual and whether or not lenses can give you sharper, clearer vision.
It would be a routine exam if you went to the doctor because you had blurry vision. It includes anything to do with lenses or glasses. As well, if your doctor diagnoses you with nearsightedness (myopia), that's a non-medical, "routine" diagnosis, and your exam is a routine one.
Why are Eye Exams Important?
Eye Exams are essential because several vision diseases do not show symptoms until severe damage has already occurred. Therefore, only by getting a comprehensive eye exam can you be sure that a vision disease is progressing. Some diseases that don't show symptoms until it has reached a progressed state include glaucoma, macular degeneration, cataracts, & diabetic retinopathy.
Will My Insurance Pay For My Eye Exam?
The medical eye doctor is legally bound to follow healthcare guidelines regarding billing your insurance. A medical eye exam should be billed to your medical insurance, while a routine vision exam should be billed to either your vision insurance or to you (if you are self-pay).
However, because every insurance plan processes things differently, the best thing you as a patient can do is be educated ahead of time about what will or will not be covered by your insurance.
We want you to know what we know and give you all the information we have about what kind of eye exam you are receiving, who it's being billed to, and what you can expect financially.
If you've scheduled an appointment with us, we will ask for all your insurance information, so that we can verify both your medical and vision insurance policies before you come in for your appointment.
That way, if for some reason you are not eligible for your benefits or we do not participate with your particular insurance plan, we can let you know ahead of time.
We will do everything we can to help you understand any medical procedures performed or charges you receive, and if you have a question we can't answer we will let you know and encourage you to contact your insurance.