Selective Laser Trabeculoplasty (SLT)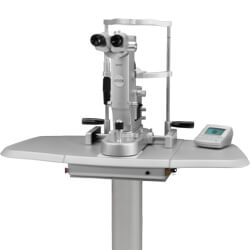 Selective laser trabeculoplasty (SLT) is an in-office procedure that reduces intraocular pressure in patients with glaucoma.
The laser is applied through a special contact lens to the drainage system of the eye where it stimulates a biochemical change that improves the outflow of fluid from the eye.
Patients who have primary or secondary open-angle glaucoma (the drainage system in the front part of the eye is open) and are in need of lowering of their intraocular pressure (IOP) are eligible for the procedure. Our eye doctor will make the final determination if you are a candidate.
Glaucoma SLT Treatment in Houston, TX
Laser energy is applied to the drainage tissue in the eye. This starts a chemical and biological change in the tissue that results in better drainage of fluid through the drain and out of the eye. This eventually results in lowering of IOP. It may take 1-3 months for the results to appear.
In SLT, it is more common not to prescribe any anti-inflammatory medications postoperatively, as it is felt that these agents may blunt the biological effects of the laser. Our surgeon will give a script for a non-steroidal anti-inflammatory to be used as needed if patient suffers ocular discomfort.
SLT lowers the IOP by about 30% when used as initial therapy. This is comparable to the IOP lowering of the most powerful and commonly used class of glaucoma medication (prostaglandin analogs).
This effect may be reduced if the patient is already on glaucoma medications. The effect will generally last between 1-5 years, and in some cases, longer than that.
Due to its excellent benefit-to-risk profile, SLT is being offered earlier in the treatment strategy of glaucoma, including as primary therapy. Studies comparing SLT and eye drops as primary therapy have found similar treatment effects between the two groups.
Although some patients still required eye drops following SLT, they required fewer drops to control their glaucoma. In addition, there were significant cost savings for those getting SLT.
Many patients have difficulty with their eye drops. It is estimated that less than half of patients use their medications as regularly as directed. Medication costs, side effects, allergies, forgetfulness and complicated eye drop schedules contribute to this problem.
As a result, there is a strong case for SLT as primary therapy for many new glaucoma patients. Glaucoma treatment is individualized for each patient, and SLT is not effective for all types of glaucoma. It is important to discuss your options with our eye care provider.